Coming Soon: The All-New 2021 Volkswagen ID.4 | Cincinnati, OH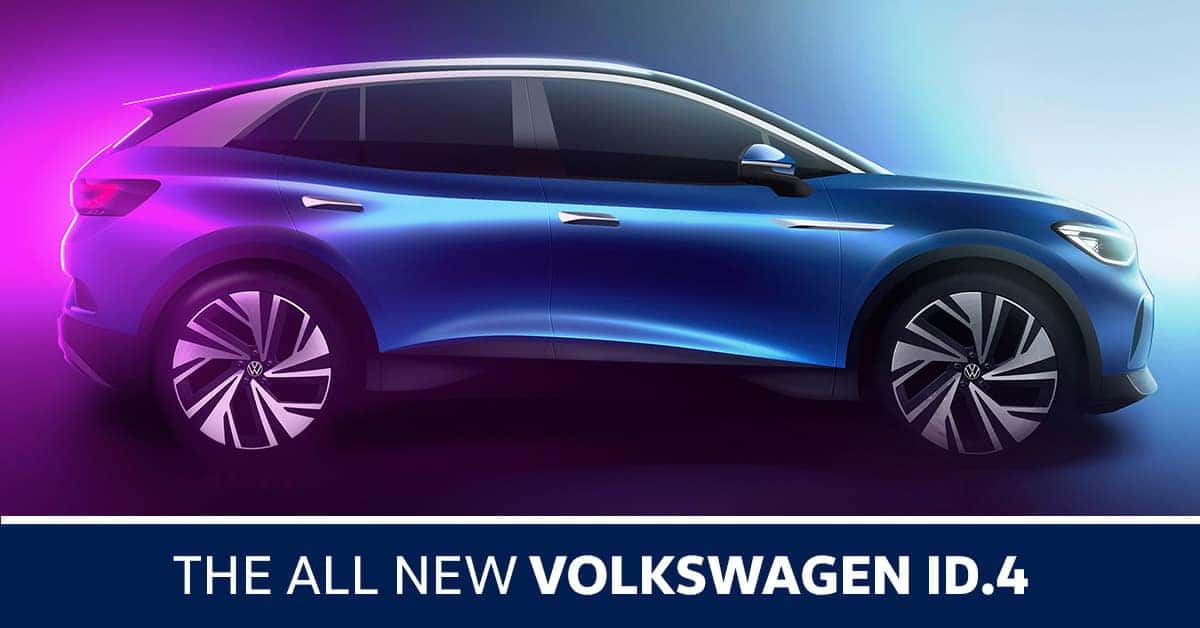 NEW VW INVENTORY APPLY FOR FINANCING CONTACT US
The future of driving is coming to the Queen City, and it's a Volkswagen. Prepare to meet the all-new Volkswagen ID.4, a fully electric SUV arriving at Joseph Volkswagen of Cincinnati in the not-too-distant future.
What will the Volkswagen ID.4 look like?
VW has teased us with what the ID.4 will look like, and it falls somewhere between futuristic and familiar. Based on the popular ID.CROZZ concept, the Volkswagen ID.4 leverages advanced modular electric drive architecture to create a look that's compact, focused, and athletic. It's also distinctively Volkswagen, speaking to a heritage of innovation and fun-loving personality.
Klaus Zyciora, the Head of Design for Volkswagen Group, says that the ID.4 "looks as if shaped by the wind itself," emphasizing aerodynamics and flowing form. Because of this approach, the Volkswagen ID.4 offers up a 0.28 drag coefficient and a low center of gravity, which should make the ID.4 a dream to drive.
How will the Volkswagen ID.4 perform?
When the 2021 Volkswagen ID.4 arrives at Joseph Volkswagen of Cincinnati, it will boast sport-oriented rear-wheel drive that lets you take full advantage of the compact SUV's athletic, nimble form. Volkswagen also plans to launch a two-motor all-wheel-drive setup, making the ID.4 particularly adept at adapting to cold, rainy Ohio days and even harsh winter weather.
The high-powered battery pack mounted in the floor of the Volkswagen ID.4 serves a performance purpose, but it also makes this all-electric SUV a gamechanger if you're planning on going green. Volkswagen expects that the ID.4 will offer more than 250 miles of range on a single charge, so getting around Cincinnati on a single charge won't be a problem. When you want to hit the road, you can expect up-to-date information on nearby charging stations so that you won't have to worry about running out of juice.
When will we see the Volkswagen ID.4 and how can you get one?
Volkswagen will reveal the all-new ID.4 on Sept. 23 at 11 a.m. EDT. You can watch the live reveal on VW.com or check back with Joseph Volkswagen of Cincinnati for details after its reveal. Once it debuts, Volkswagen will open up online reservations. You can secure your 2021 VW ID.4 with a fully refundable $100 payment and lock in your order for an addition $400 when production starts.
The future of driving looks bright in the hands of Volkswagen. Joseph Volkswagen of Cincinnati is your connection for all things VW in Southwest Ohio, and we have all the latest vehicles from Volkswagen in stock and ready to test drive. Whether you're looking today or planning for a more sustainable tomorrow, call or email and we'll put you on the right track.