Tips for Maintaining Your EV | Cincinnati, OH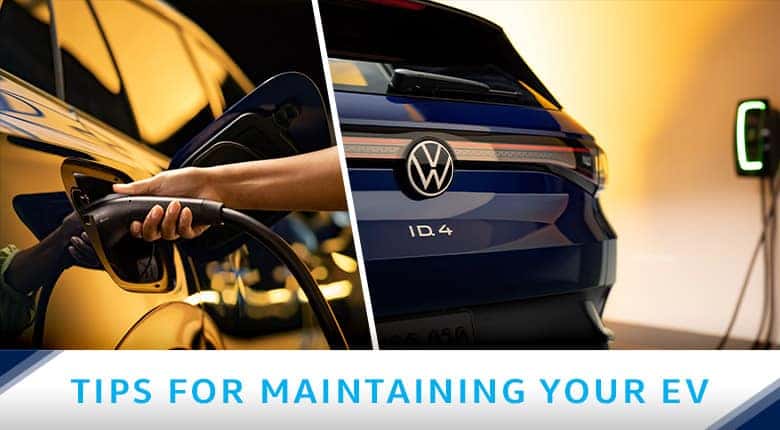 WHY BUY AN EV          NEW 2021 VW ID.4           SCHEDULE SERVICE
Thanks to their simple mechanics, it's much easier to maintain an electric vehicle than a combustion-engine model. If you have a long commute for which you need an efficient and modern electric family vehicle, these tips will help you take pristine care of your EV.
Maintaining Your Powertrain
Powertrain maintenance is minimal when you drive an EV, and your manual will provide you with a schedule for regular maintenance checkups. Transmission maintenance and fluid replacements are unnecessary with an EV; instead, you might need some lubricant for the direct-drive system, but even the direct-drive system is usually sealed. Therefore, bring it to the experts at Joseph Volkswagen for care and maintenance.
Maintaining Your Battery
An EV's largest and most critical internal element is its battery. If you own an EV, it is crucial that you have a good understanding of battery charging and care.
Keeping your battery between 20-80 percent of its full charge will do wonders in prolonging its life. Repeatedly charging to full will decrease its lifespan, as will leaving it below 20 percent for an extended period of time.
During a long trip, driving off a full battery until it's nearly depleted is acceptable, but that's not how you should treat your battery for everyday commutes. Additionally, keeping your battery out of extreme temperatures, which are commonplace in the Midwest, will also extend your battery's lifespan.
Fast Charging
Fast charging is a common practice for EV owners, but it will contribute to a decreased life expectancy over time. If possible, only fast-charge when you need to.
Brakes
The regenerative braking present in many EVs largely reduces the need for consistent brake servicing. Many EV drivers have eclipsed 100,000 miles without replacing their brakes, and some have even passed the 200,000-mile mark. However, it's still important to have your car's brakes inspected regularly. If you feel like something is unusual about your car's brakes, bring it to Joseph VW of Cincinnati.
Tires
Regular tire rotations are still imperative when you drive an EV. Look into tires built for electric cars, as they will be quieter and better suited to handle the weight and torque of EVs.
Keep your EV running in pristine condition — schedule a service visit at Joseph VW today.