Buying a Car Online | Cincinnati, OH
There are many advantages to visiting a car dealership when you are researching your next vehicle purchase. In addition to being able to test drive different models, you're also able to get a sense of the personality of who you will buy from, and you get to take advantage of the vast knowledge of the sales staff.
However, the process can be time consuming. Joseph Volkswagen of Cincinnati knows your time is valuable, and we want to make this process as pain-free as possible. That's why we offer an easy online buying process.
4-Step Buying Guide
Browse Upgrades
Click the "Express Purchase" button on any vehicle to begin the sales process. Safeguard your new purchase and avoid unexpected and costly repairs by choosing protection packages for your vehicle. You can also add on popular products such as GAP insurance, window tint, accessories, extended service contracts, and more. Next, enter your address for free express vehicle delivery to your home or office (some restrictions apply).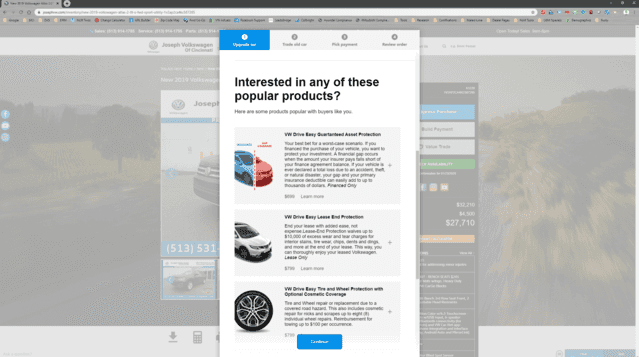 Estimate Trade-In
Have a vehicle to trade in? We use Kelley Blue Book to value the trade of your leased o2cr owned vehicle and get you an instant estimate, which can then be applied to your purchase.
If you don't have a vehicle, simply select the "No trade in" option.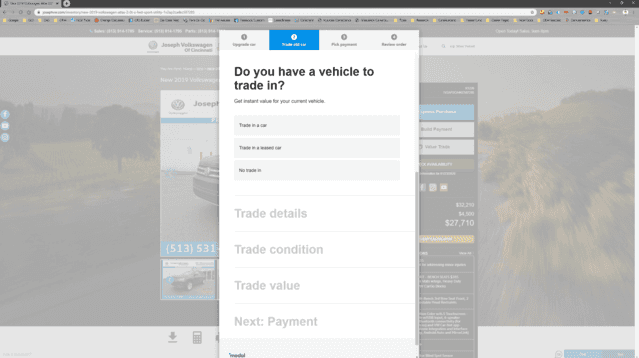 Choose Payment Options
Design a payment that's right for you with the payment calculator tool. First, select between financing, leasing, or paying cash in full for your vehicle. You can then adjust the terms of your monthly payments, down payment, lease or finance term, and mileage (if applicable) to a plan tailored to you. Then enter your billing information, income information, credit information, and co-buyer information, if applicable.
Review Your Order
Finally, review your order to ensure all the details and information you entered is correct. Sign your name and click "Place order" to complete. Your order will be sent to the dealership, where upon approval we'll complete the transaction. You'll receive an email confirmation shortly afterwards containing your purchase details.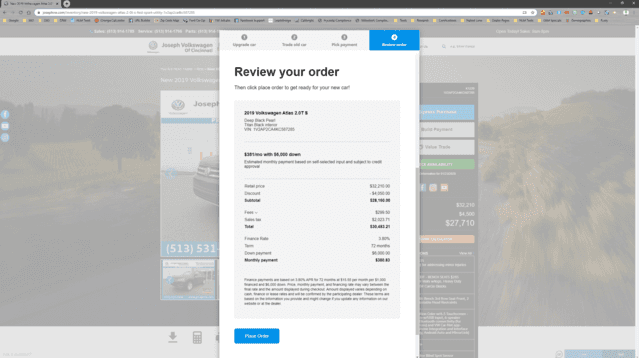 Frequently Asked Questions
When can I test drive the vehicle?
Feel free to stop into Joseph Volkswagen of Cincinnati at any time to test drive any vehicle or have the vehicle brought to you. We work hard to make sure that you find the vehicle that fits into both your budget and lifestyle.
Choose your vehicle and use the EXPRESS PURCHASE option to view financing and transaction details to ensure you're pre-approved for that vehicle. Whether you choose to visit the dealership for the test drive or wait until delivery, no Joseph Volkswagen of Cincinnati purchase is complete until you have driven the car and decide that it is exactly what you were looking for.
Is Delivery available if I live or work far away?
Yes- We offer delivery anywhere! Within a 50 mile radius, delivery is FREE. If you live or work outside of our free delivery radius, check with one of our Vehicle Specialists to get a delivery cost. We'll do our very best to accommodate your needs and make sure we meet your expectations.
Am I required to give a deposit or make a down payment to complete my purchase or lease arrangement online?
No. You can complete a purchase or lease arrangement online without money down. Many of our customers choose to do financing or leasing with no money at all. In the event you decide to use a down payment, you can do that at delivery and our staff will guide you through payment options.
How does the trade-in of my old car work?
We use the third-party independent valuation calculator provided by Kelley Blue Book. You'll enter your vehicle info and select "Very Good", "Good" or "Fair" based on the description of each condition. You'll immediately be presented with the actual cash value of your trade-in that you can apply to your vehicle purchase or lease. Prior to delivery – our Vehicle Specialist will confirm your trade-in details. We'll verify the amount owed (if applicable). Our experience has been that our customer's trade descriptions and the calculated values are quite accurate. We'll inspect your vehicle either prior to or at delivery. Our customers are generally good about letting us know of any concerns so that we can make sure the transaction meets expectations. If for any reason the Actual Cash Value offered for your trade-in appears inaccurate or if you have any questions, please let us know and we'll review the details for you. A final trade in value must always include a vehicle inspection by one of our trained professionals before a final cash value can be reached.
What about financing, rates and terms?
When you select a credit-score range, you immediately see your payment, rate and term. We have dozens of lenders and programs that compete for your business. Once submitted, we find find an approval that works for you. Buying online doesn't always ensure your automatically approved however. Approval is validated by the banks after the specific information you provided is submitted.
How does home or Work Delivery work?
We'll review all the transactions details with you in advance. You'll know the exact price and terms. Your vehicle, registration, title and related information will be verified accurate to make sure we get things done right. If there is anything to be resolved prior to delivery, your Vehicle Specialist will follow up and make sure it happens as you expect. You select a date, time and location. Your Vehicle Specialist will inspect your vehicle at the dealership to make sure it's 100% ready for delivery to you. At your home or office, you'll test drive your vehicle. Your Specialist will go over the vehicle and make sure you are comfortable with its features. When satisfied, you and your Specialist will go through the paperwork together with each document explained. Your Specialist will provide a virtual tour / introduction to our service department and we'll book your first service.