Cool Accessories for Your Beetle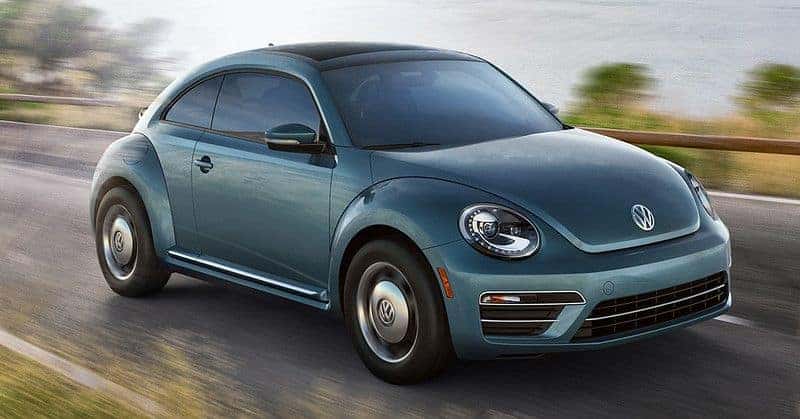 There is arguably no car on the road today that's more distinctive and iconic than the Volkswagen Beetle. The VW Beetle has long stood as the ideal choice for the individual, and that extends beyond its one-of-a-kind look and feel. Volkswagen offers a ton of cool accessories that make your Beetle all the more your own, including these must-haves:
Sport Pedal Cap Set
The Volkswagen Beetle offers the excitement of turbo power, and the Sport Pedal Cap Set — available for select manual and automatic models — lets you amplify that sense of sportiness. These pedals used brushed metal and a dynamic design to give your Beetle that extra kiss of awesome, and you'll notice the difference every time you climb in.
Spare Tire Mount Subwoofer
Nothing quite complements a fun drive like playing your favorite tunes at full blast. With the available spare tire mount subwoofer, you get an extra boost of bass in the boot, helping you better enjoy your playlist inside and outside your Beetle. This massive subwoofer features a five-channel Class AB amp with an integrated digital sound processor, and it's best used in conjunction with the available Emergency Tire Sealant & Pump kit since it takes the place of your spare.
A New Set of Wheels
Your Volkswagen Beetle looks sharp as it is, no doubt, but it might look even more styling on a new set of fresh wheels. With the most recently VW Beetle, you can select from a wide range of wheels in five different sizes: 16-inch, 17-inch, 18-inch, 19-inch, and 20-inch. For that classic look, the 17-inch Heritage Wheel gives your Beetle a sense of old-school cool. If you'd prefer something more modern, there's the 19-inch Tornado Wheel or the massive 10-spoke 20-inch Monterey Alloy Wheel. No matter your style, there's a wheel option that'll help you stand apart.
There's much, much more where that came from, and you can find it all at Joseph Volkswagen of Cincinnati. Not only do we have the largest VW Beetle inventory in the entire country, but we can help you load it up with all those must-have accessories you can't live without.