Joseph Volkswagen of Cincinnati Proudly Serves Florence, KY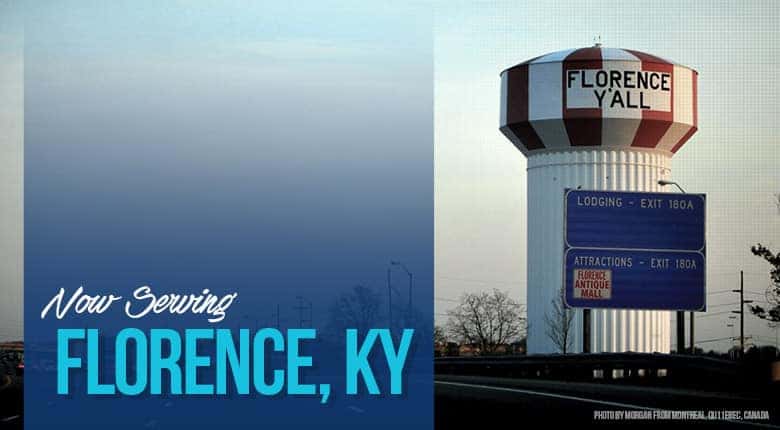 NEW VW INVENTORY          USED INVENTORY           CONTACT US
Ask anyone from Southwest Ohio, Northern Kentucky, or the tri-state area what they know about Florence, and they'll probably give you the same exuberant exclamation: Florence, Y'all!  Though the iconic water tower just off of I-75 and I-71 is perhaps Florence's most famous attribute, there's quite a bit more to a city the Joseph Volkswagen of Cincinnati couldn't be prouder to serve.
A brief history of Florence
Prior to its incorporation under the name Florence in 1830, the area went by several names including Crossroads and Maddentown. At the time of incorporation, the population was a modest 62 people. Florence stayed an ultra-small town for much of the 20th century before a population boom between 1950-1960 saw the number of residents increase 340.5 percent. Florence only continues to grow with the estimated population sitting just over 33,000 people in 2019. It's now the second-largest city in Northern Kentucky and one of the fastest growing in the Bluegrass State.
And, of course, the water tower
Every year, countless motorists from all over America take in the sight of the Florence Y'all Water Tower. Notable for its red and white stripes and, of course, the certifiably Southern phrasing, the water tower has been a staple of the region for nearly 50 years. The tower originally read Florence Mall, but highway regulations forced the verbiage to change on short notice. Thus, the M was replaced with a Y and an apostrophe, and the result is one of the quirkiest roadside attractions anywhere in the Midwest. In case you're curious, the Florence Y'all Water Tower can hold around 1 million gallons of water.
What to do in Florence
Naturally, the water tower is a popular destination and photo-op, but there's a lot to do around the city. In addition to several large chain restaurants and entertainment options, you've got the Florence Mall, which features over 130 stores and is the lynchpin of the city's massive retail district. Be sure to visit the Florence Antique Mall as well if you're interested in some of the finest vintage collectibles anywhere in the tri-state. If you're looking for something a bit more adrenaline-filled, you can check out Ollie's Skatepark, Full Throttle Indoor Karting, or take in a race at Florence Speedway.
If you're in Florence and looking for a fun-loving new Volkswagen with the best customer service around, you're just 30 minutes away from Joseph Volkswagen of Cincinnati. We'll take care of all y'alls' needs every time you visit our showroom.
Photo by Morgan from Montreal, Quebec, Canada – Florence Y'all, CC BY 2.0, https://commons.wikimedia.org/w/index.php?curid=60232070