Volkswagen Car-Net® Security & Service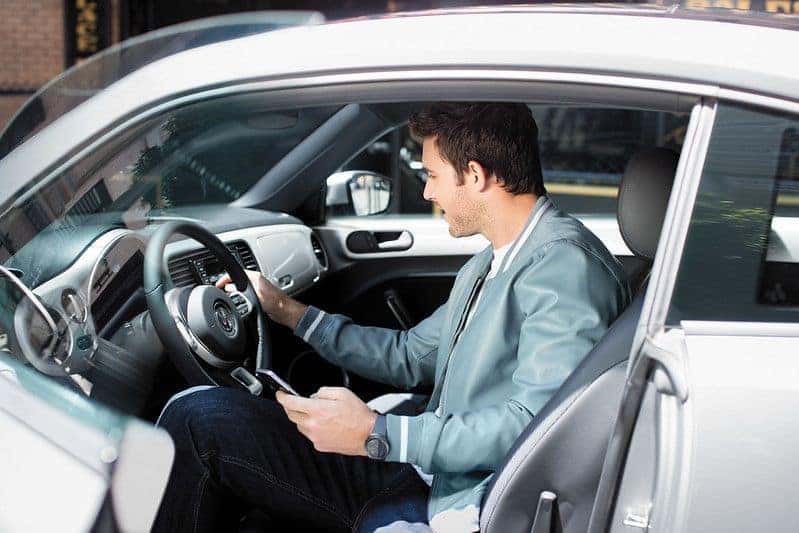 Volkswagen knows that every driver wants to protect their car. That's why VW offers Car-Net®, a mobile app which keeps you connected to your car, emergency services, and Volkswagen dealerships. Here's a look at how Car-Net® works to keep you safe and your Volkswagen healthy.
Emergency Call Service
The Car-Net® Emergency Call Service is there to help you in case of a serious accident, such as an incident which triggers airbag deployment. An emergency call is automatically placed to the Volkswagen emergency call center, which then relays all relevant information to first responders. You'll be given personal support until help arrives. You can manually use the Emergency Call Service if other drivers are involved in an accident to send help their way.
Vehicle Health Report
Volkswagen knows it's not always easy to stay on top of your car's needed maintenance checks. The Car-Net® Security & Service Vehicle Health Report lists all current alerts, such as low tire pressure, brake wear, fluid levels and other critical data along with pertinent scheduled maintenance dates. You will receive an email complete with your vehicle report after a predetermined period, and you can always request a report manually.
Service Scheduling
Once it's time for scheduled maintenance, all dates from your Volkswagen will be sent via Car-Net® Security & Service to your preferred mechanic, who will then contact you to schedule an appointment. Finding a Volkswagen-authorized service provider is easy through the mobile app.
Driving Data
The more you know about your driving habits, the easier it is to optimize the efficiency of your fuel consumption. After every trip, your driving data will be updated to show average speed, distance, fuel consumption and more so you can review your drive and learn when you are at your most and least efficient.
Ready to learn more about the benefits of driving a Volkswagen? Visit us at Joseph Volkswagen of Cincinnati.